At Minworth Junior and Infant School, we offer a curriculum that is broad, progressive and above all, engaging for the children that we teach. Learning is the core purpose of our school and as such is central to everything that happens within it. It is very much our vision that Minworth is the place 'where learning is alive!' through our intention to develop resilient, self-motivated and inquisitive learners. It is our fundamental objective to ensure our children be the best they can be, reaching their academic potential and leaving us as happy, responsible young citizens, equipped to succeed and contribute positively to the next stage of their journey and beyond.
In meeting the statutory requirements of the National Curriculum, we have designed a curriculum that integrates the gaining of sequential knowledge, the development of progressive skills and the acquisition of purposeful and relevant vocabulary all of which is predominantly organised through engaging topics, the detail of which can be explored below. Despite the curriculum being primarily thematic in its approach, each subject is identified and promoted as an individual discipline with its own set of fundamental learning expectations that build within and across year groups. Furthermore, each curriculum subject is regularly and routinely monitored by subject leaders, reviewed and evaluated in order to maintain its relevance in the development of talented and educationally broad children.
The Minworth Curriculum Offer below seeks to succinctly summarise our curriculum, its organisation and intention and how it ensures measurable progress for our children in 'a nutshell.'
To ensure a 'richness of experience' throughout their education, we have developed the 'Minworth Pledge' which captures and details the provision children will be entitled to throughout their time at Minworth, all of which will contribute to the memories children will hold on to, long after they have left our school.
| | | | | | | | |
| --- | --- | --- | --- | --- | --- | --- | --- |
| | Reception | Year 1 | Year 2 | Year 3 | Year 4 | Year 5 | Year 6 |
| Autumn 1 | | | | | | | |
| Autumn 2 | | | | | | | |
| Spring 1 | | | | | | | |
| Spring 2 | | | | | | | |
| Summer 1 | | | | | | | |
| Summer 2 | | Tokyo | Tokyo | Tokyo | Tokyo | Tokyo | Tokyo |
Maths at Minworth
We believe that maths should be exciting, engaging and provide opportunity for children to develop their mastery of maths. In order to do this, we use and adapt the White Rose Mastery planning from Maths Hubs.
Throughout the year, pupils cover all areas of maths and are provided with opportunity to apply these skills through daily lessons. These lessons enable children to work on their fluency, reasoning and problem solving skills within a maths concept.
To develop their understanding of mathematical concepts children will be taught to use concrete and pictorial forms before developing their abstract understanding. For example: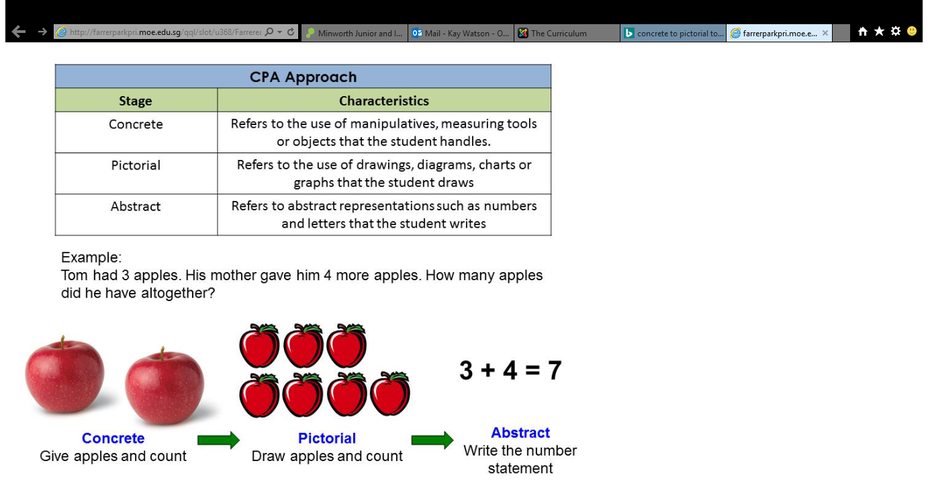 To gain a further insight into the learning that takes place within your child's year please see the links below:
Year Group Overview
Phonics and Reading
Information for parents
Phonics is recommended as the first strategy that children should be taught, in helping them learn to read. It runs alongside other teaching methods, such as guided reading and shared reading, to help children develop all the other vital reading skills to hopefully give them a real love of reading. At Minworth Junior and Infant School we combine the guidance and phase progression from The Department for Education's Letters and Sounds programme with the actions from Jolly Phonics.
Reception
Children are assessed on their knowledge of phase one which identifies if a child can discriminate between different sounds, identify the initial and end sounds in words, blend sounds together and split words in to sounds. They are taught these skills continually throughout the year whilst being introduced to phase two, which is learning to hear a sound and knowing how to form it and recognise it in a systematic way by learning one set at a time.
Set 1 - s a t p, Set 2 - i n m d , Set 3 - g o c k, Set 4 - ck e u r, Set 5 - h b f ff l ll s ss
Once children are secure in these sounds they begin to learn the sounds in phase three. Phase three is taught in the same way as phase two, and by the end of phase three the children will know one way of writing each of the 44 phonemes.
Set 6 - j v w x, Set 7 - y z zz qu, Consonant digraphs - ch sh th ng
Vowel digraphs (and trigraphs) ai ee igh oa oo ar or ur ow oi ear air ure er
Year 1
Children will consolidate the learning from reception and revisit any of the 44 phonemes that children may not be secure on before starting phase four. The main challenge in this phase is to help children to blend and segment words with adjacent consonants e.g. truck, help. As children develop in confidence they are introduced to phase five where children will learn alternative ways to write sounds and split digraphs. For example, they would already know ai as in rain, but now they will be introduced to ay as in day and a-e as in make. At the end of the year all children sit a national phonics screening test.
Year 2
Children will consolidate the learning from year one before moving on to phase six. This reinforces much of the learning from phase five and helps children to develop greater fluency in reading and begins to explore spelling rules and conventions, e.g. adding -ing and -ed.
Key Stage Two
If children are assessed to require or need greater competency in phonics, they will continue to have support to learn the phonemes. Children who are secure up to phase six will learn the spelling strategies and common exception words for their age and year group.
Reading
To support the school's approach to phonics, the school has adopted the Bug Club Reading scheme. The children start on picture books until they are able to recognise and self-blend sounds. As children's phonetic knowledge develops, they are able to move through the reading bands which provides opportunities to decode more complex words, develop an on-sight vocabulary and read with greater fluency whilst being challenged to develop their comprehension skills. Once children's reading is secure they will become a 'free reader', choosing their own texts. Comprehension and reading strategies continue throughout the key stage two curriculum.
Jigsaw PSHE
We follow the Jigsaw PSHE programme with children from year 1 to year 6, please see the outline below. In addition to the Jigsaw PSHE programme, children learn about changes during puberty in year 5 and sex education in year 6. This is delivered by a visiting teacher and year 6 parents are informed when the lessons will take place.