At Minworth JI School, our teaching is compliant with the National Curriculum and teachers write and plan topics to enthuse and engage pupils through our unique, thematic curriculum. Each year group has a specific theme that integrates and runs through other curriculum areas, which form the basis of termly or half-termly plans. This thematic approach allows our children plenty of opportunities to explore, discover and develop into deep, life-long learners. Our children are submerged in essential learning, making it meaningful whilst allowing and encouraging them to become masters of their own learning.
Information about the content of each theme of work is provided below.
Reception

Year 1

Year 2

Year 3

Year 4

Year 5

Year 6

Autumn 1

Autumn 2

Spring 1

Indian Spice

Spring 2

Memory Box

Sensational Safari

Summer 1

Paws, Claws and Whiskers

All Around Us

Summer 2

Dinosaur Planet

Water World
At Minworth, in addition to their academic learning, we believe children should also be taught to develop socially, morally, culturally and spiritually. To ensure this happens, our Minworth Jigsaw values are taught, promoted and celebrated throughout our curriculum. Furthermore, we also promote the fundamental British values of democracy, the rule of law, individual liberty, mutual respect and tolerance of different faiths and beliefs. Please see the link below to see how these British values are promoted at Minworth.
How are British Values promoted at Minworth?​
An additional value we promote at Minworth is 'taking pride in our heritage.' To promote this, in all topics taught, children learn about some of the key British historical figures, events and architecture that have helped shape Britain into what it is today. Please see the link below to see how this is promoted within our topics.
Maths at Minworth
Here at Minworth, we believe that maths should be exciting, engaging and provide opportunity for children to develop their mastery of maths. In order to do this, we use and adapt the White Rose Mastery planning from Maths Hubs.
Throughout the year, pupils cover all areas of maths and are provided with opportunity to apply these skills through daily lessons. These lessons enable children to work on their fluency, reasoning and problem solving skills within a maths concept.
To develop their understanding of mathematical concepts children will be taught to use concrete and pictorial forms before developing their abstract understanding. For example: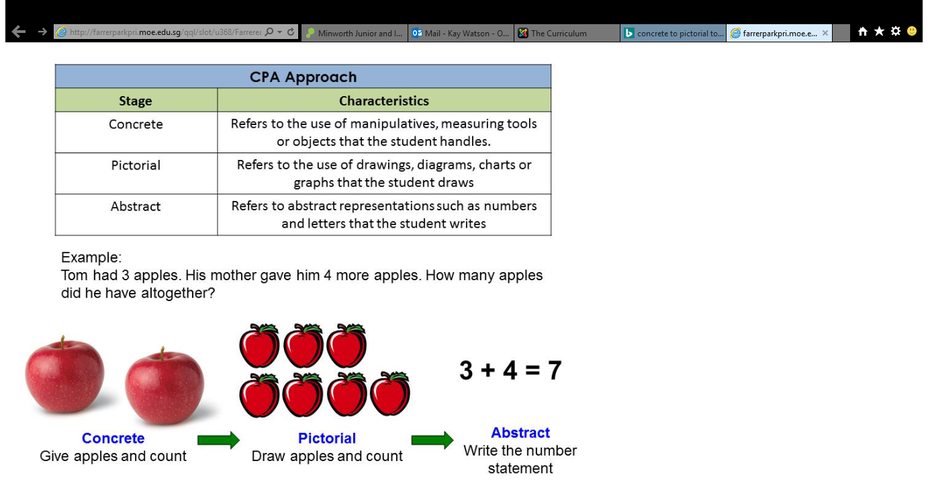 Children will use a wide range of resources including counters, cubes, base 10 apparatus and bead strings to name but a few.
To gain a further insight into the learning that takes place within your child's year please see the links below:
Religious Education at Minworth
Phonics and Reading
We use The Bug Club reading scheme which supports the Letters and Sounds phonics guidance.
Your child will move through the colour bands, continually being assessed on their reading and comprehension.